Hotels
Over the years, Drakos DMC has established strong and personal relationships with the hotels on the island. While there is a variety to suit all tastes, our team of experts helps our clients in selecting a property that exactly meets their needs and their budgets.
Below are some of our hotel partners that have proven over and over their commitment to excellence in operations. Do not hesitate to contact us directly for the most competitive rates and bookings.
---
Almyra Hotel, 5*, Paphos
Stylish and relaxing, fashionable yet unpretentious, Almyra is a chic cutting-edge luxury 5-star family seafront hotel that makes contemporary luxury accessible to all. Almyra sits in eight acres of landscaped gardens on the Mediterranean shoreline of Paphos, Cyprus.
Meaning 'taste of the sea', Almyra's highlights include the Almyraspa – a sun-lit utopia of organic and marine-based therapies complemented by inspiring ocean vistas – and the waterfront Kyma ('Wave') Suites, showcasing harbour views from candle-lit rooftop terraces. Almyra is a comfortable combination of modern design elements and sleek facilities.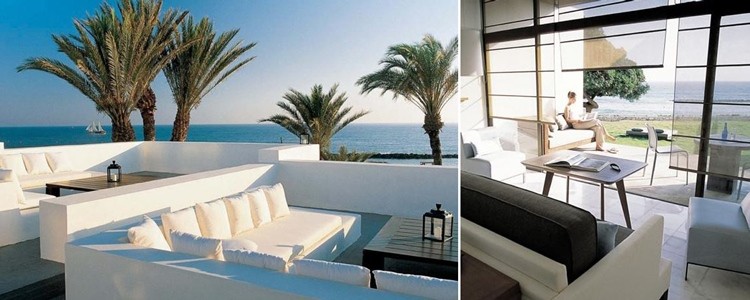 ---
Amathus Beach Hotel, 5*, Limassol
Nuzzled on the beach amidst the tropical gardens and the indigo sea, the newly renovated Amathus luxury hotel in Limassol is a serene sanctuary of world-class comfort.
As a proud member of the Leading Hotels of the World this luxury design hotel offers a fabulous range of state of the art facilities, top notch services as well as one of the Leading Spas of the World and luxury accommodation ensuring an experience of world class luxury.
Drenched by natural day light the hotel's main conference centre on the mezzanine floor is technologically advanced and can host up to 600 delegates in total in a theatre setting, or separately 400 in Demetra room and 160 attendees in Ares room which is the ideal choice for banquets.
Hermes, Aphrodite and Poseidon are available for smaller meetings and events taking place at this enchanting 5 star hotel in Limassol.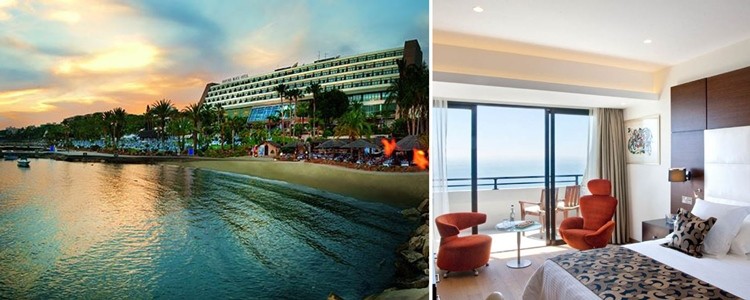 ---
Anassa Hotel, 5*, Paphos
Anassa – meaning 'queen' in ancient Greek – is a luxury 5 star hotel resort on the Mediterranean shores of Cyprus. Anassa is the jewel in Cyprus's crown: a majestic resort that exudes the charm of a traditional Cypriot village.
Tumbling down a secluded hillside towards the infinite blue of the eastern Mediterranean, the resort's classical low-rise buildings and Mediterranean gardens are arranged around an idyllic village square complete with Byzantine chapel. Set in an area of outstanding natural beauty, facilities are inspired by the surrounding landscape: from the extensive Thalassotherapy programme in the luxury Roman-style Thalassa Spa to local, seasonal produce served in five 'farm-fresh' restaurants.
World renowned as one of the world's most beautiful and exclusive 5 star luxury spa hotel, it's Mediterranean location and golden beach makes Anassa one of the hottest luxury destinations in the world.
From beach activities, to five star silver service restaurants, luxury brand boutique shopping to relaxing in the beautiful hotel gardens, drenched in wonderful Cyprus sun. Whilst looking at beautiful scenery or sharing a fantastic Mediterranean sunset, Anassa, the ultimate Mediterranean retreat will ensure your stay with us will be engraved on your memories forever.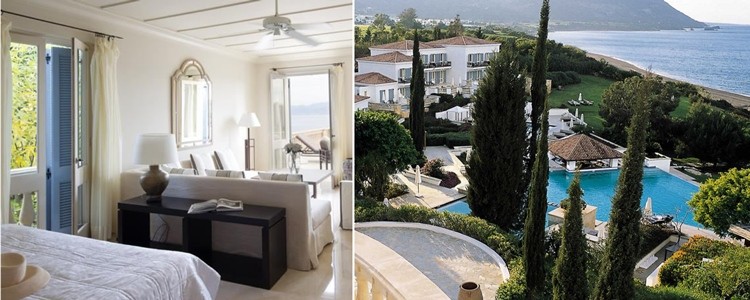 ---
Annabelle Hotel, 5*, Paphos
A sincere welcome awaits at Annabelle, an oasis set within six acres of lush gardens on Paphos' Mediterranean sea front.Cool, peaceful interiors, understated design and warm, caring service combined with 5 star luxury to create a distinct atmosphere of unpretentious elegance.
Four restaurants and five bars showcase seasonal produce, delicate local wines and traditional Cypriot charm, with live music almost every night of the week. Glittering waterfalls reflect the tantalising blue of the Mediterranean; swaying palms slow life to a blissful pace and languid days roll into leisurely nights with impeccable ease.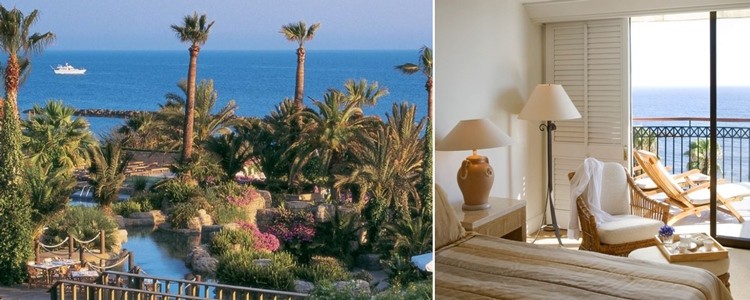 ---
Aphrodite Hills Hotel, 5*, Paphos
Ideally situated at the centrepiece of the Aphrodite Hills Holiday Resort is the 5 star Aphrodite Hills Hotel. Enjoy extra-large guest bedrooms and stunning views over the Mediterranean Sea or the Championship Golf Course.
Offering 290 luxurious and spacious guest rooms and suites, all interiors are a subtle fusion of contemporary designs and traditional Cypriot décor. Deep orange, red and gold fabrics symbolising the year-round Cyprus sun, are combined with Lefkaritika linen and lace bedspreads. Hand-carved solid wood cabinets and traditional Cypriot ceramics crafted by local artisans, introduce a natural warmth and elegance to each hotel room.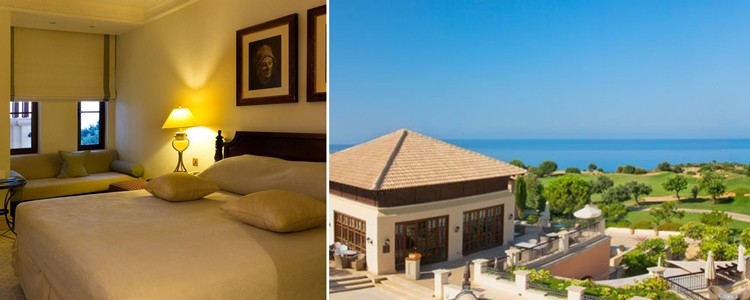 ---
Azia Resort and Spa, 5*, Paphos
A small Cyprus hotel may have all the charm in the world, yet what the discerning guest will sometimes miss is the variety of experience to make the holiday accommodation an unforgettable pleasure. This is the thinking behind the concept of the Azia Resort, a foray into sophisticated escapism that offers stylish barefoot living, understated luxury and casual unobtrusive service.
Built as three different sections on adjacent grounds, with plethora of magnificent spaces for carefree living, the Azia Resort has all the diversity to keep its guests contented for a week or longer. Each element of the three-in-one boutique Cyprus hotel concept has its own character and fulfils different aspirations of the visitor. The Azia Blue is about sophisticated, spacious living and family luxury hotel. The Azia Club and Spa is ideal for privacy and indulgence. The Residence is a haven of individual pampering and innovative style.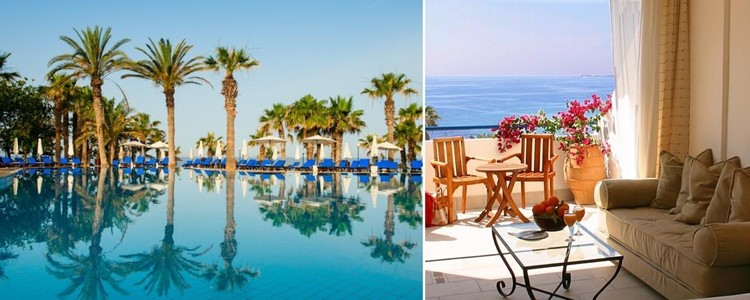 ---
Columbia Beach Resort, 5* and Columbia Beach Hotel, 4*, Pissouri
The Columbia Beach Resort, an exclusive all suite resort, (adjacent to Columbia Beach Hotel) lies at the centre of a secluded Blue Flag beach, providing the only hotel accommodation on Pissouri Bay.
The bay is protected on either side by the rocky outcrops of bleached cliffs extending into the crystal clear sea. The approach to the bay is through a valley of vineyards and orchards.
Located on the south coast between the two towns of Limassol and Paphos the hotel consists of 94 deluxe suites, 1 fine dining restaurant, 1 Taverna, 1 cocktail bar, 3 bars & snack bars, 1 coffee lounge and an 80 m outdoor pool. The hotel is within easy reach of the island's two international airports, main towns, mountains, championship golf courses, and all points of interest. Just 4kms away is the picturesque village of Pissouri, perched on high overlooking the sea.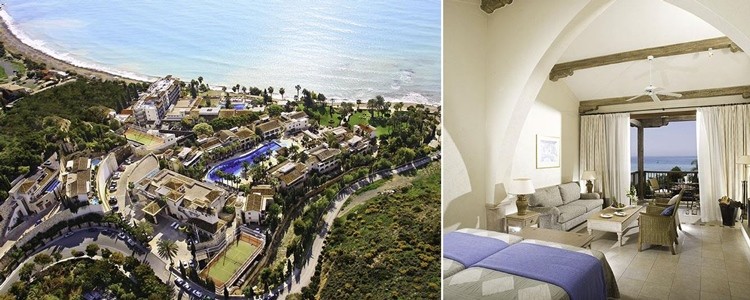 ---
Coral Beach Hotel, 5*, Paphos
The Coral Beach Hotel & Resort, in Paphos, Cyprus occupies a superb location overlooking the golden sandy beaches and sparkling waters of Coral bay. Adjacent to the Akamas peninsula, an area protected by UNESCO, the Coral Beach Hotel & Resort offers the perfect base for exploration, either by jeep or on horseback.
Perfectly seasoned all the year round, being the warmest in the winter and coolest in the summer, Paphos is the perfect destination in Cyprus for a vacation any time. With unspoilt natural beauty and built on the aspects of traditional rustic architecture, the Coral Beach Hotel & Resort, has warmth that makes everyone feel at home.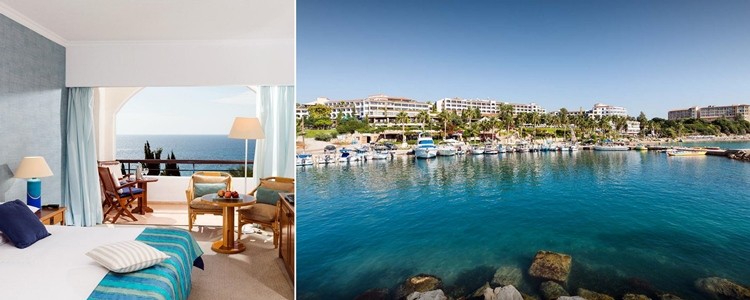 ---
Crowne Plaza, 4*, Limassol
Whether you're traveling for business, leisure or both, check in to the renovated Crowne Plaza Limassol. Walk into the modern lobby of our stylish Limassol hotel to be greeted by a friendly smile and panoramic Mediterranean views. With our unparalleled beach and city centre location, you'll have easy access to the main business and historic districts of town, as well as being right on the water.
Wake up feeling fresh after a good night's sleep in one of our renovated rooms or suites and get off to a great start with a hearty breakfast at the Haven restaurant and terrace with its unique proximity to the sea. If you are looking for a great restaurant in Limassol, try award winning Italian cuisine at La Brezza. Alternatively, relax at the Lounge Bar with free Wi Fi, casual dining and live music.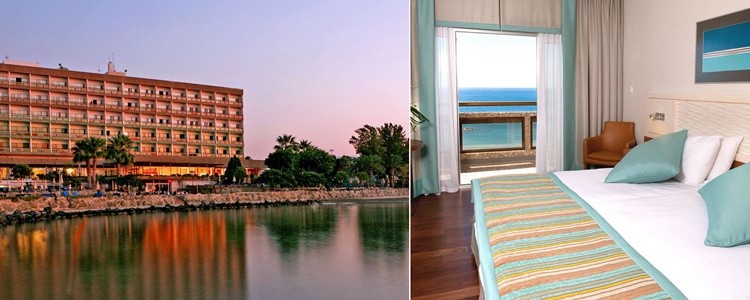 ---
Elysium Hotel, 5*, Paphos
The Elysium Beach Resort, situated on the beach is a five star deluxe hotel, set adjacent to the archaeological site of the Tombs of the Kings in Paphos and only 15 minutes away from the picturesque port.
The Elysium enjoys uninterrupted views of the Mediterranean Sea and has been designed in a palatial style primarily influenced by the Byzantine Era. The cultural references of its architecture evoke the rich history of Cyprus and combine elements from Greek, Roman, Medieval and Venetian times. A blend of local stone, marble and timber, warm muted colours and decorative features such as mosaics, arches and columns create a sense of place and traditions.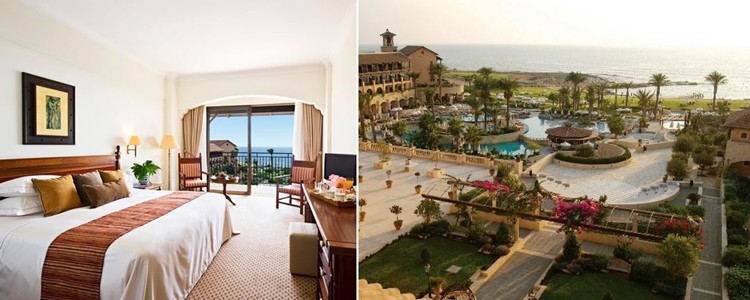 ---
Four Seasons Hotel, 5* Deluxe, Limassol
The prestigious independently owned and operated Four Seasons Hotel lies on a sandy beach east of Limassol approximately midway between the airports of Larnaca and Paphos and only a few minutes' drive from the city centre. This five-star resort is the pinnacle of luxury & style, combining impeccable facilities with world class hospitality and service.
The Hotel has three main conference facilities, the Four Seasons Ballroom, The Summit Room and The Chairman's Suite. Together they offer the ultimate flexibility in a venue for any event from 10 to 600 attendees.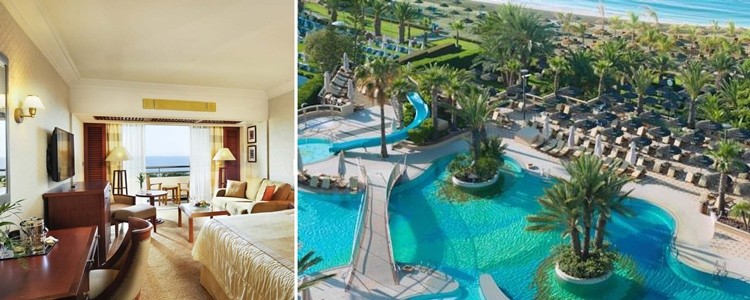 ---
Grand Resort, 5*, Limassol
The GrandResort is among the finest five star hotels in Limassol set in beautifully landscaped tropical gardens, on a superb beach side location in the exclusive Amathus area of Limassol. An exceptionally grand and elegant hotel about 11 km from Limassol town centre, the luxurious GrandResort offers an impressive range of facilities and an unrivalled standard of personal service and sheer comfort.
An attractive indoor atrium lined with impressive hanging gardens and lavish furnishings is a delightful feature, while the magnificent grounds include a tranquil, free-form outdoor swimming pool on the edge of a sandy beach near the ancient kingdom of Amathus.Its meeting and conference facilities can handle up to 1,200 delegates.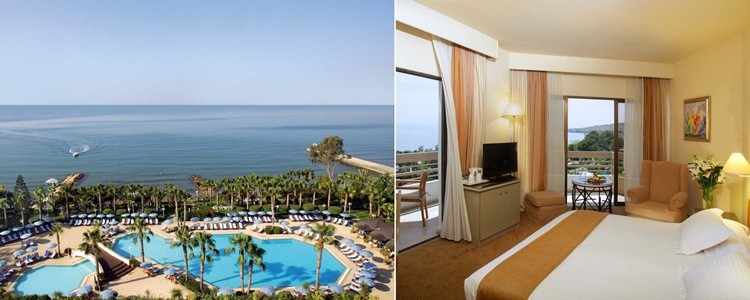 ---
Hilton Hotel, 5*, Nicosia
Located within easy reach of Nicosia's city centre, the historic Old City and the business district, Hilton Cyprus is the ideal place to stay while visiting Cyprus. Make the most of the Mediterranean climate as you cool off in the large outdoor pool or relax in the sun on your private balcony. A 20-minute stroll will take you into the Old City where historic churches and mosques are surrounded by ancient Venetian Walls, once built to defend the city. Visit one of the area's traditional meze restaurants or soak up its rich history.
Hilton Cyprus offers an impressive selection of meeting facilities, with 15 flexible meeting spaces, including a ballroom, to accommodate small or large events up to 1000 Guests.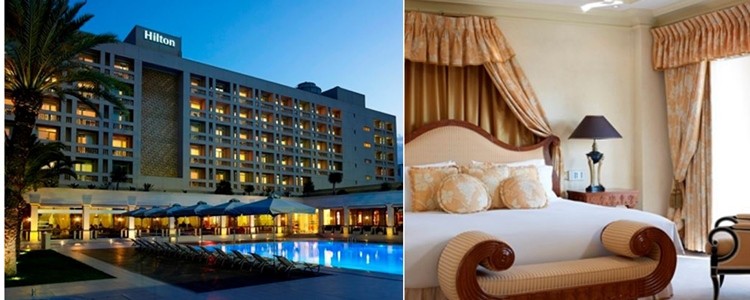 ---
Hilton Park Hotel, 4*, Nicosia
The elegant Hilton Park Nicosia is located in one of the capital's prime residential areas, only five minutes from the town centre, close to the embassies, Cyprus International State Fair, museums, Horse Race Club, entertainment areas and only 45 minutes from Larnaca International Airport.
All 194 luxuriously spacious rooms offer breath-taking views of the garden or lagoon-shaped swimming pool. Enjoy a scrumptious meal in the Olympia restaurant, a drink in our Amalfi Lounge Bar, or an aromatic coffee and irresistible dessert in the Vienna cafe. The Standard Rooms are spacious and fully refurbished to the highest standards in traditional style.
---
Mediterranean Beach Hotel, 4*, Limassol
True hospitality has always been the fabric of the Mediterranean, a superior 4 Star luxury hotel situated on one of the most beautiful sandy beaches of Limassol. The hotel's unique location provides all the advantages, boasting some of the best views of the island's southern coastline. Recently renovated extensively, the Mediterranean Beach Hotel welcomes guests to a warm and inspiring environment of aesthetic luxury and comfort.
This contemporary resort offers guests not only luxurious facilities and personal service but an all-round Mediterranean holiday experience. The hotel offers a variety of amenities. Its seminar and conference facilities make it one of the preferred conference venues in Limassol, whereas its popular restaurants, sophisticated halls and impressive gardens and pools turn it into an ideal venue.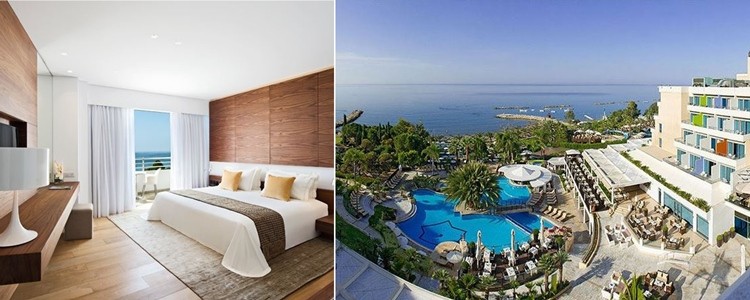 ---
Parklane Resort & Spa, 5*, Limassol
Parklane, a Luxury Collection Resort & Spa, Limassol is surrounded by 100.000 m2 of landscaped gardens. It features tastefully decorated accommodation with free WiFi and views of the garden or the Mediterranean Sea. Children and spacious spa facilities with thalassotherapy and treatment rooms are included. Several restaurants, as well as 2 bars, are available for the guests' indulgence.
It consists of a total of 274 Rooms & Suites (222 Rooms & 52 Suites), 8 Restaurants & Bars, the 800sqm Parklane Diamond Room with additional 7 Meeting Rooms, the 3000sqm Kalloni Spa with indoor/outdoor thalassotherapy program, as well as 12 treatment rooms and 3 suites.
Further leisure facilities include 4 beautifully designed indoor/outdoor swimming pools, including a seawater pool, and a state of the art Fitness Center.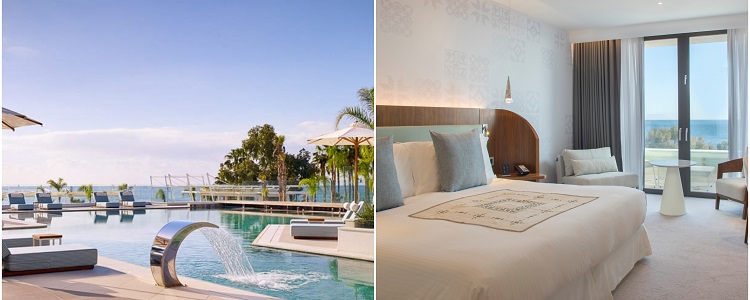 ---
St. Raphael Resort, 5*, Limassol
The St. Raphael Resort is located on one of the most renowned and largest Blue Flag accredited beaches in Limassol. The clear blue sea water and sandy beach ensure that all guests can enjoy a dip in the Mediterranean Sea and relax by the calm waves.
St Raphael Resort offers guests a variety of cuisine from around the world, guaranteeing to satisfy any pallet. With a selection of six restaurants and three bars, our guests are sure to feel spoilt for choice.
All meeting & conference rooms at the St Raphael Resort Hotel have been approved by the Human Resources Development Authority, as ideal venues for organizing company training and open seminars.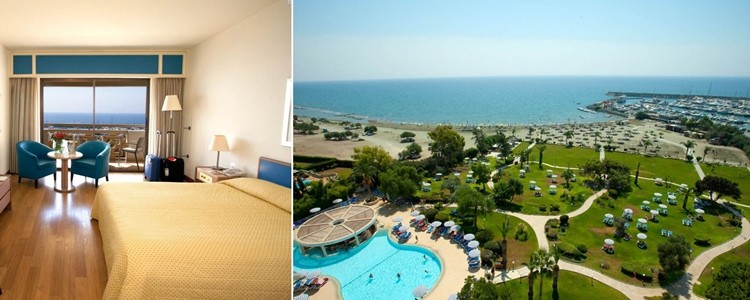 Do not hesitate to contact us directly for the most competitive rates and bookings.